Low Calorie Filling foods
An effortless way of creating a low waistline on a budget would definitely be a dream for most of us.
Although the thought of having a perfect hourglass body might sound to be an insurmountable task, in reality, it can be an achievable goal provided you set your mind to it. Highlighted below are some almost zero calorie foods that pack quite a punch.
But first, let us take a look at some basics.
What are zero-calorie foods?
Calories are what gives your body energy from the food you eat. The human body needs to be fuelled with a certain amount of calories every day.
For men its 2,600 calories per day, and for women, it is 2,000 calories per day. (Reference)
Knowing the calories of the food you consume, helps make sure you are not consuming more than what your body needs. Additionally, if you are on a mission to lose weight, following a low-calorie diet will keep things in check.
So in this post, we are going to take a look at some almost zero calorie foods to help you on your road to fitness.
**This post may contain affiliate links. Please read the disclosure.
For those that are looking for a healthy meal plan using everyday ingredients, here is a 14-day free trial coupon to the $5 meal plan. For just $5 a month you will have access to healthy recipes that will cost less than $2 a person.
What Snacks Are 0 Calories?
If you are interested in some low-calorie snack ideas, here are a few for inspiration:
Air-popped popcorn
Feel like having an ice cream? Try banana ice cream instead!
Toasted Almonds
If you fancy a cool drink, have a low-calorie blueberry juice or a low-fat blueberry smoothie with low-fat yoghurt
Fruit bowl – grapes, strawberries and kiwi
Slices of watermelon
Non-fat plain yoghurt with honey or strawberries for sweetness
Miso soup if you are feeling super hungry
Homemade air fryer vegetable samosas
A hard-boiled egg for a high protein snack
Black pepper crackers
Greek Dolmades – stuffed vine leaves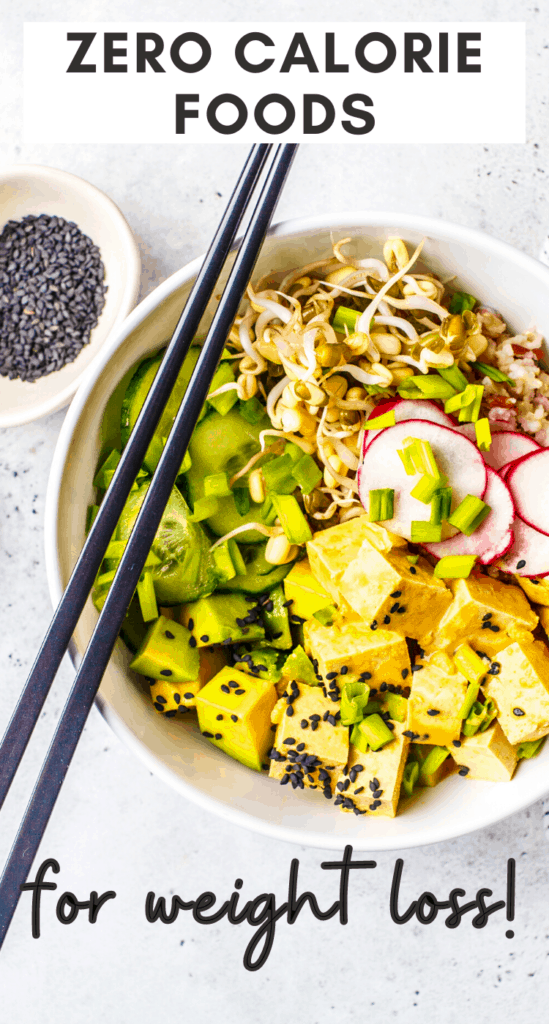 0 calorie foods
Raw Celery (3 sticks = 8 calories)
That's right the best of all zero calorie foods is the celery!
With almost no calories to contribute, this makes it to the top of our list. Celery has many health benefits which include supporting digestions and reducing inflammation
Recipe ideas: Celery juice, celery added to soups or raw as a snack with a low-calorie dip – like a homemade tzatziki dip with low-fat yoghurt.
Lettuce (1 cup = 5 calories)
Keen on green then rely on lettuce to make you lean!
This crisp and crunchy delight takes the centerstage of almost any salad. It is a quintessential element and forms the base of any salad. Ranging from romaine, iceberg, butter etc., lettuces don't require any special pampering as they can be enjoyed on their own seasoned with some salt and pepper.
Recipe Ideas: Chicken Lettuce wraps, lettuce tacos and lettuce salad with a light dressing.
Arugula (1 cup = 5 calories)
Also known as rocket, arugula is another excellent zero calorie option. The stand out feature of arugulas is that they have an apparent sharp peppery taste. This anti-inflammatory is a fine choice for weight loss lovers.
It has rightfully found itself a place on the plates of many in the form of sauces, salad, soups, pasta etc. If you believe you would like to incorporate arugulas in your diet but don't fancy it, try creating a low-calorie arugula carb-free pizza. That's a win-win.
Recipe Ideas: Veg rocket salad, salmon rocket salad, rocket soup and rocket pesto.
Spinach (1 cup = 7 calories)
Growing up a very popular cartoon character of my time suggested how important spinach was – thank you, Popeye for that! This dark green leafy veggie is an excellent choice to stay on track with your zero-calorie diet. This nutrient-dense vegetable is abundant in iron and could help manage anaemia and those with iron deficiencies.
Spinach is used throughout various cuisines globally. And this multifaceted vegetable can be used in soups, dips, sautés, stir-fries, salads etc. without adding calories to your plate.
Recipe Ideas: Cauliflower crust spinach pizza, spinach and roast pumpkin, baked cod and spinach
Cucumbers (1 cup = 16 calories)
Yes! That's right, just 16 calories.
This amazingly low-calorie veggie would be idealistic for anyone who is serious about weight loss. Succulent in nature and aiding in hydration, this is the perfect go-to summer commodity.
Cucumbers are a perfect choice for a zero-calorie food diet. Cucumbers are the answer to well-being and help restore health, as it is mostly composed of water and has a very refreshing taste. So, don't be afraid to dig in!
Recipe Ideas: Chickpea cucumber salad, cucumber tomato salad, and stuffed cucumbers.
Mushrooms (100gms = 8 calories)
If you are thinking about a low-calorie dinner idea, mushrooms would definitely fit the bill. They are an excellent source of fibre and protein to keep you energized all day. This low-calorie food is also fat-free and also low in sodium.
Recipe Ideas: Grilled, added in stir-fries, grilled or simply pan-fried. Add in some asparagus or broccoli (also included in this list) to make it your perfect low-calorie meal for weight loss.
Pickled Gherkins (100 gms – 30 calories)
Pickled gherkins make a healthy snack that can be added to a toastie or in a tuna salad. The only drawback I see with pickles is the high salt content. Adding pickles to a recipe with less salt content could however compensate this effect.
Kale (1 cup = 30 calories)
Not only is kale one of the best low-calorie foods, but it's also rich in nutrients and anti-oxidants. Kale and spinach (which is just 8 calories a cup!) are both rich in Vitamin C and iron which is good in improving a person's overall health.
Recipe Ideas: Sauteed kale, kale quinoa salad, vegetable stew, kale added to a smoothie or the most popularly consumed – kale chips.
Lemon (1 fruit = 22 calories)
Be it lemon or lime, the refreshing taste of citrus can add zing to any lacklustre recipe (to both food and drink). The zesty tart sour flavour which keeps you begging for more is a very versatile commodity aiding in digestion and can boost metabolism.
All it takes is a squeeze to bring out the best from it. One of the easiest ways to encompass citrus into your daily diet would be to add lemon slices or wedges to any of your most consumed drinks like water or sparkling water.
Recipe Ideas: Lemon based salads, low-calorie lemon bars, lemon couscous and broccoli, lemon as a low-calorie salad dressing.
Cabbage (1 cup = 22 calories)
Loaded with all the needed micronutrients, this crop has all the properties to help keep those calories at bay. This nutrient-dense leafy giant when consumed is light on the palate, giving you a feeling of fullness and has an extremely low-calorie count.
Cabbages, be it purple or green can be very adaptable and is commonly used in slaws, stir-fry, salads, soups etc. Low in fat and high in fibre cabbages definitely deserves a spot in this list of zero-calorie foods.
Recipe ideas: Cabbage soup, sauteed cabbage or grilled cabbage
Tomatoes (1 whole = 22-30 calories depending on the size)
Relished either raw or cooked, this omnipresent fruit or vegetable with its juicy red goodness is a must-have if a zero-calorie diet is on your mind. Consuming tomatoes comes with the added bonus of it being light on the calories and surprisingly filling. This humble veggie with all of its phytonutrients like lycopene gives it its radiant colour.
The bottom line is one can never go wrong by adding this to your palate.
Recipe Ideas: Roast tomato soup, tomato salsa, tomato toasties, stuffed tomatoes with grilled veg/fish and roast tomatoes.
Asparagus (1 cups = 27 calories)
This much-adored veggie can be enjoyed either grilled, roasted or sauteed, asparagus has been known to promote a healthy heart. Loaded with various antioxidants and known for keeping diseases at bay.
This green wonder with its unique taste boasts of cleaning your liver, preventing UTI's, gets rid of bloating etc. Hence, adding this versatile veggie to your everyday diet would help you regulate your calorie count and keep you fuller also.
Recipe Ideas: Roast asparagus, asparagus salad or in a vegetable soup.
Broccoli (1 cup = 31 calories)
Don't be deceived by its humongous size but broccoli is one of the best examples of a zero-calorie diet. One of the healthiest vegetables in this universe, broccoli is one veggie you can count on and it won't let you down. As it epitomizes attaining satiety while being very low on your calorie intake.
Although it is widely recognized that some people don't fancy broccoli due to its bland taste, it would never hurt to spice things up or to add some flavour to this modest vegetable.
Recipe Ideas: Broccoli and cauliflower bake, broccoli soup, steamed broccoli or in a casserole.
Brussel sprouts (1 cup = 38 calories)
Sprouts are notoriously nutritional and are a fantastic additive to any salad, stir fry, or roast. Packed with high levels of vitamins, this detoxifying veggie can help protect yourself from cancer and other ailments. Brussel sprouts without a doubt have earned themselves a place on our list due to their almost zero-calorie benefits.
Recipe Ideas: Roasted Brussel sprouts, Brussel sprouts gratin, brussel sprout salad with pickles.
Finally a quick recap!
Zero-calorie foods list
Download this free zero calorie food list pdf to add to your shopping list for a healthier alternative.
Celery sticks
Lettuce
Rocket
Spinach
Cucumbers
Mushrooms
Pickled Gherkins
Kale
Lemons
Cabbage
Tomatoes
Asparagus
Broccoli
Brussel Sprouts
If you are interested in saving money on grocery, here are some useful resources on our site to check out;
Best Almost Zero Calorie Foods to try!