*This post may contain affiliate links. Please read the full disclosure here. 
FILLING CHEAP MEALS
So what do you eat when you're broke?
When we talk about dirt-cheap meals, we don't need to think of unhealthy food options.
I'm personally not a fan of canned or packaged products, so here are some meal options from scratch that uses fewer products but more value for money.
Most canned products contain preservatives, and if you are buying tomato-based products, you are prone to find it contains sodium – something your body doesn't need!
The produce used in this post has a long shelf life, this means you can buy them in bulk and they keep fresh for days. One huge advantage about buying in bulk is the price tag – it's a whole lot lesser.
Posts you may like:
Save money on Food
Two of the best resources that I have to mention here are Swagbucks and Fetch Rewards.
If you haven't heard of them before, these are the two most important and FREE tools to save money shopping.
Swagbucks – Earn up to 40% cashback when you use their website to shop from your favourite stores – Walmart, Target and more! Not only that you also get paid to search the internet and have the opportunity to do daily surveys worth up to $35 a day.
Fetch Rewards – It's so simple how this works. You scan your shopping receipts and earn points redeemable for gift cards. As simple as that.
There is no restrictions or commitments to earn your points. Just scan any shopping receipt at grocery stores, drug stores or even gas stations in the US to earn points. Download the Fetch app here and start scanning your receipts!
So let us take a look at some of the cheapest meals to make for breakfast and lunch. You can choose to use the same lunch ideas for dinner as there are plenty of options to choose from.
*Bonus: Save and print the entire list of dirt-cheap meals for large families for free at the bottom of this post!
CHEAP FILLING MEALS
Cheap Meals that are Healthy for Breakfast
1. TOAD IN THE HOLE
While jam and toast would probably be the cheapest carb-based breakfast meal, I have included this classic British recipe to start this list of dirt cheap meals for large families.
Its called Toad in the Hole, an all-day breakfast that goes well with baked beans or roast veg. Made from sausages and pancake batter (flour, eggs and milk), this super filling recipe is great to tear and share with the whole family.
Simply brown the sausages in the oven for 10-15 mins.
Mix together the flour, eggs, milk and salt, and once the sausages are out of the oven, pour the mix and bake in a 200-degree oven for 15-20 minutes.
This is great to freeze, so you can make a large batch and freeze once it's cooled down.
Check out these smart freezer hacks to freeze food for long!
2. SPICY SCRAMBLED EGGS
You can do either a simple scrambled egg with salt and pepper or add in a few extra veggies for a variation.
Spicy Veggie Scrambled Eggs:
1tbsp oil/butter
1 cup onions
1/2 cup green peppers
a handful of chopped coriander
5 eggs
cracked black pepper
salt to taste
pinch of turmeric (optional)
This might seems like a lot of work, but it's quite simple. Once the oil is heated add the onions, peppers, turmeric and salt. Once it is cooked add the eggs, coriander and black pepper.
Goes great with some toasted bread. This along works great for a quick lunch.
3. OMELETTE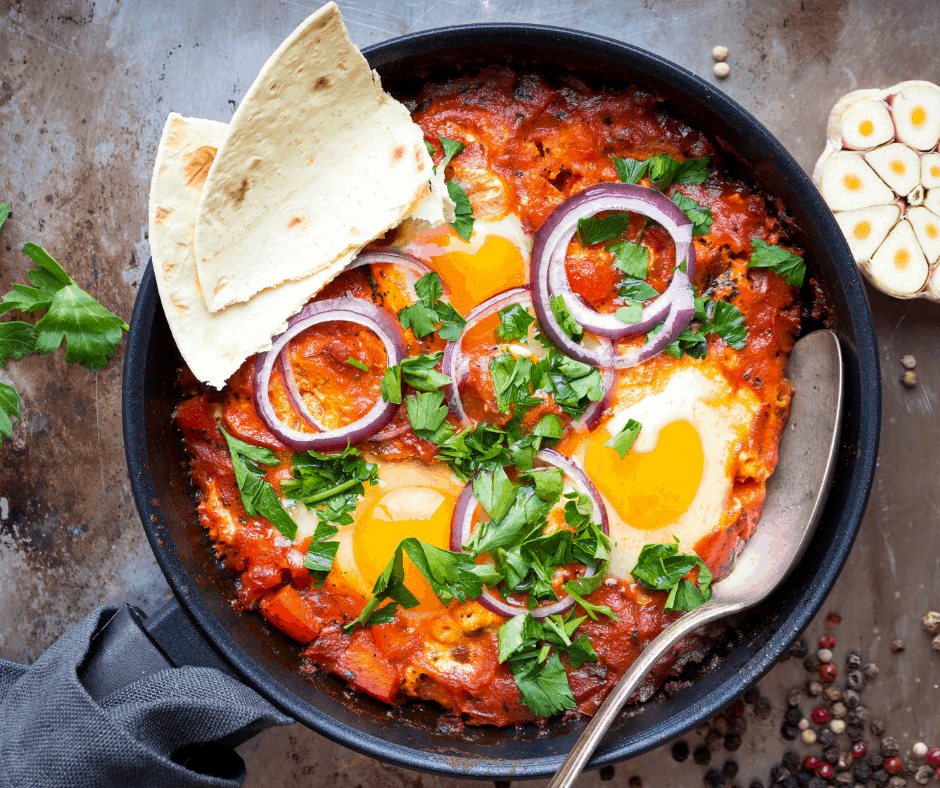 There is a lot you can do with eggs. And it's not just omelette, you can also make some egg muffins, or a shakshuka – a tomato-based egg breakfast meal.
If you are interested in a spinach omelette, here's a tasty recipe;
2 eggs
2 cups raw spinach – chopped
1 cup cut red peppers
cracked pepper
oil and salt to taste
Mix the ingredients in a mixing bowl. Heat a little oil in a frying pan and pour the mixture when the pan is hot. Flip the omelette and cook the other side till its cooked through. Serve with your favourite bread.
4. BAKED EGGS WITH AVOCADO
If you have avocadoes and eggs, you can make this for breakfast.
1 avocado
2 eggs
cracked pepper & salt
chilli flakes or chives to suit your taste(optional)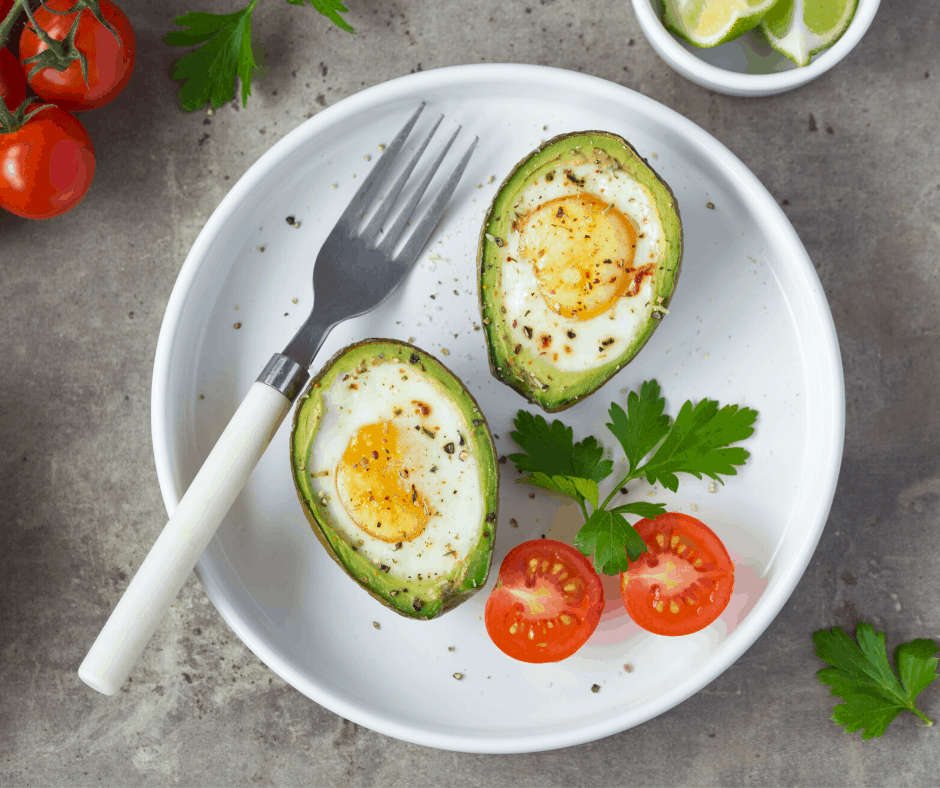 Slice the avocado in half and remove the seed in them. Gently pour the eggs in each of the avocado halves without breaking the yolk. Sprinkle with salt and pepper and a drizzle of oil. Bake for 15 minutes or until the yolks are half done.
Serve with sprinkled chilli flakes and a toast.
5. BAKED BEANS AND SPICY EGGS
If you have some eggs, a can of cannellini beans, and chopped tomato you can make this spicy egg and beans for breakfast. It's great on its own or served with a warm toast.
6. HONEY OAT BREAD
Gluten-free honey oat flour bread made with just a few simple ingredients in only one bowl. No refined flour (oat flour only), butter or dairy! Check out the full recipe here.
7. MUFFINS
If you are a family of four, you can get a 4 pack of muffins for less than a dollar. Alternatively, if you feel like cooking you can make a blueberry muffin from frozen berries that cost a lot cheaper. Or go savoury and make an egg muffin!
8. PANCAKE
Apart from the traditional pancake idea, a last-minute pancake option that will be a hit with the kids is the 2 ingredient pancakes. With just a mashed banana and two beaten eggs, you can make some healthy pancakes.
9. WAFFLES
If you already have the ingredients to make a waffle, then you can go for it. Otherwise, store-bought waffles come cheap and taste great too.
10. FRENCH TOAST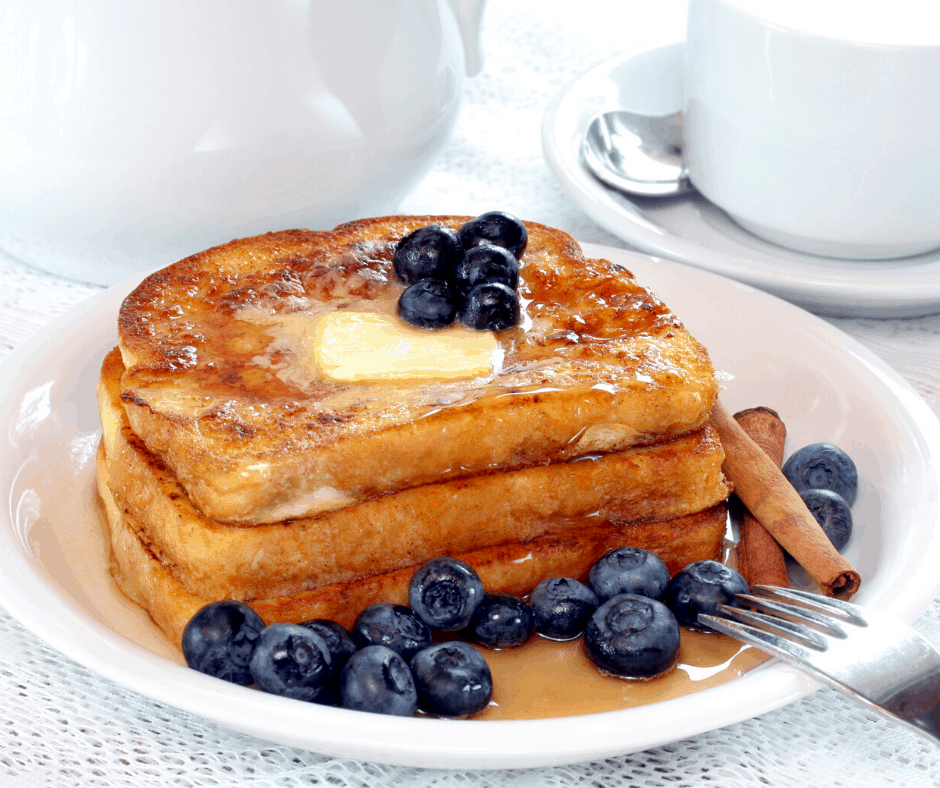 French toast is typically made from a slice of bread dipped in an egg and milk mixture and shallow fried in butter or oil.
You can also add a bit of vanilla extract to the mixture for flavour, or a cheaper alternative would be a pinch of cardamom powder.
11. CEREAL AND MILK
Getting back to the basics is a good bowl of cereal and milk. It's cheap, high in fibre and the sugar-free options are healthier. For a variation, you can use coconut milk instead of cow's milk.
12. OVERNIGHT OATS
This is a fun twist to a traditional oatmeal breakfast. Mix up some oats, fruit, yoghurt, milk and leave it to refrigerate overnight for a deliciously creamy morning breakfast that's ready to go. There is no need to cook these oats and is great served warm or cold.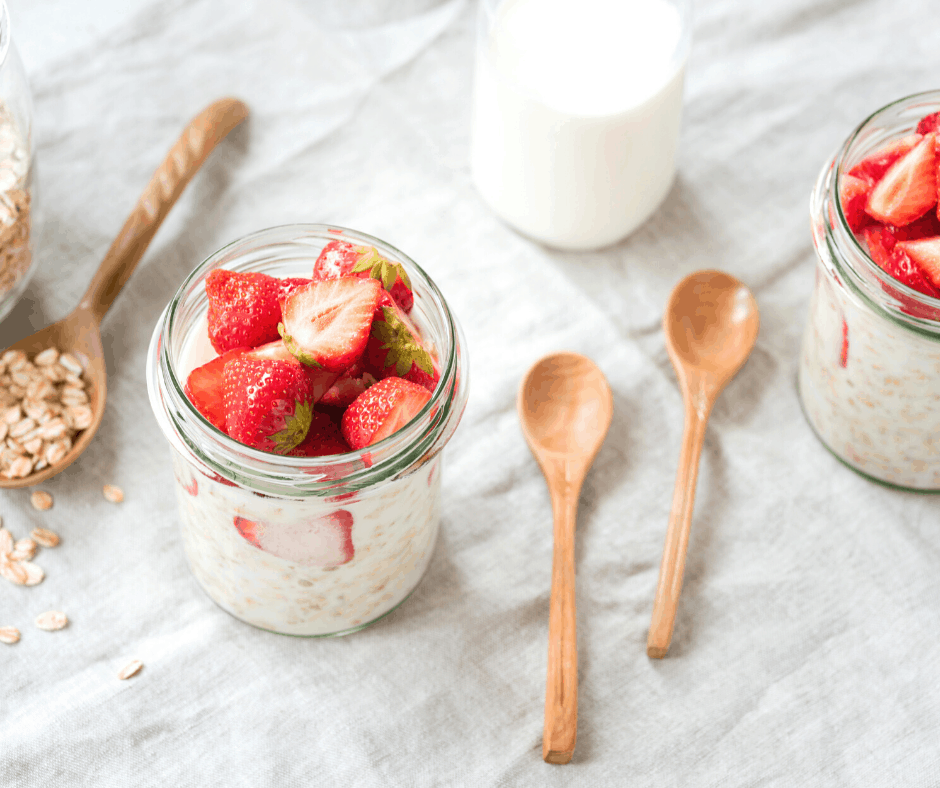 Here are some more overnight oat breakfast ideas.
Similarly, overnight chia seed chocolate pudding is a treat for the entire family!
13. PORRIDGE
If you prefer cooking your oats, then you can go the porridge route. Add some dried berries and nuts or honey to add some additional flavour.
14. YOGHURT AND FRUIT
A simple and handy breakfast to have on the go. Plain yoghurt works out cheaper than the flavoured ones. You can add some fresh fruit or honey to sweeten the taste.
15.BAGELS AND CREAM/JAM
Bagels with cream or jam are a quick, on the go breakfast idea. But if you want to spruce it up a little, here are a few other filling ideas;
apple slices and peanut butter
Avocado, dill and cream cheese
Bacon, cheese and bbq sauce
Cheese and omelette
Steak, mushroom, tomato and cheese
That's it for the breakfast round-up of ideas. Next, let's take a look at some cheap meals that are great for lunch or dinner.
Cheapest Dinner Ideas
16. TUNA TOSTADAS
10 Minute Tuna Tostadas are a seriously lifesaving lunch or dinner using pantry staple tuna as the base and then throwing in some spices, cheese, and whatever chopped veggies you have on hand!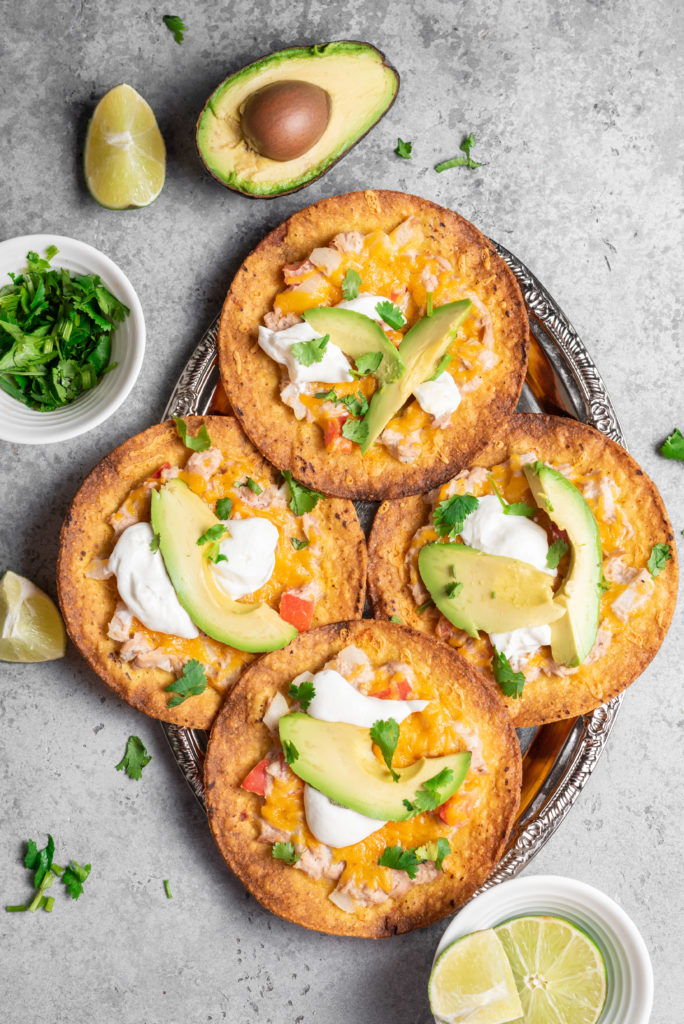 Full recipe: Kitschen Cat
17. SOUPS
Soups are delicious for lunch as they don't leave you felling full or bloated. They are light and go well with a dinner roll or just on its own. Some dirt cheap meal ideas for a bowl of soup are potato soup, pumpkin soup, or lentil soup.
Check out a few other budget soup recipes:
18. SALADS
A roast vegetable and couscous salad, a Caesar salad or even a chickpea salad from either dried or tinned chickpeas. Use your own mix of ingredients and drizzle over some homemade dressing of lemon juice, olive oil and cracked pepper.
19. WRAPS
While most wraps come together with a lot of filling, you can use leftovers from the previous night as a filling for your wrap. Some cheap filling ideas are avocado, jalapenos, cucumber, tomatoes, onions, grated carrot, cheese, tinned tuna or chickpea.
20. STIR FRIED NOODLES
Stir-fried noodles in 5 minutes? Yes please! Drizzled in a mix of sweet soy sauce, sriracha, and sesame oil, this easy Mee Goreng recipe will have your taste buds flaming with flavour.
Full recipe on: Wander Cooks
21. ROAST VEG
Add some veg on a roasting sheet, sprinkle some olive oil, cayenne pepper, salt and let it roast. Add some dry herbs to boost flavour. Simple, clean and healthy.
22. BREAD/BAGEL PIZZA
If you are not up for making your own pizza dough, you can use a slice of bread or bagel as a base for your pizza. Spread some pizza sauce and toppings for an enjoyable mini pizza that kids will also enjoy.
23. SWEET POTATO SALAD
Just like normal potatoes, sweet potatoes keep fresh for long.
Cut up some of these sweet potatoes and roast them with some salt and pepper and have it with your favourite salad. You can also use them as fries, an alternative to the normal potato fries. They make a healthy choice for kids, after school snacks.
24. BAKED POTATOES
These are a universal favourite, and you can certainly play around with the toppings. From mashed tuna and mayo, cheddar cheese, sour cream and chives, salsa or an onion salad toppings.
Onion salad topping – chopped onions, finely cut tomatoes, a little drizzle of lemon and a couple of chopped mint leaves. They give a tangy twist to the baked potatoes.
Alternatively, try this easy loaded baked sweet potato.
25. TUNA SANDWICH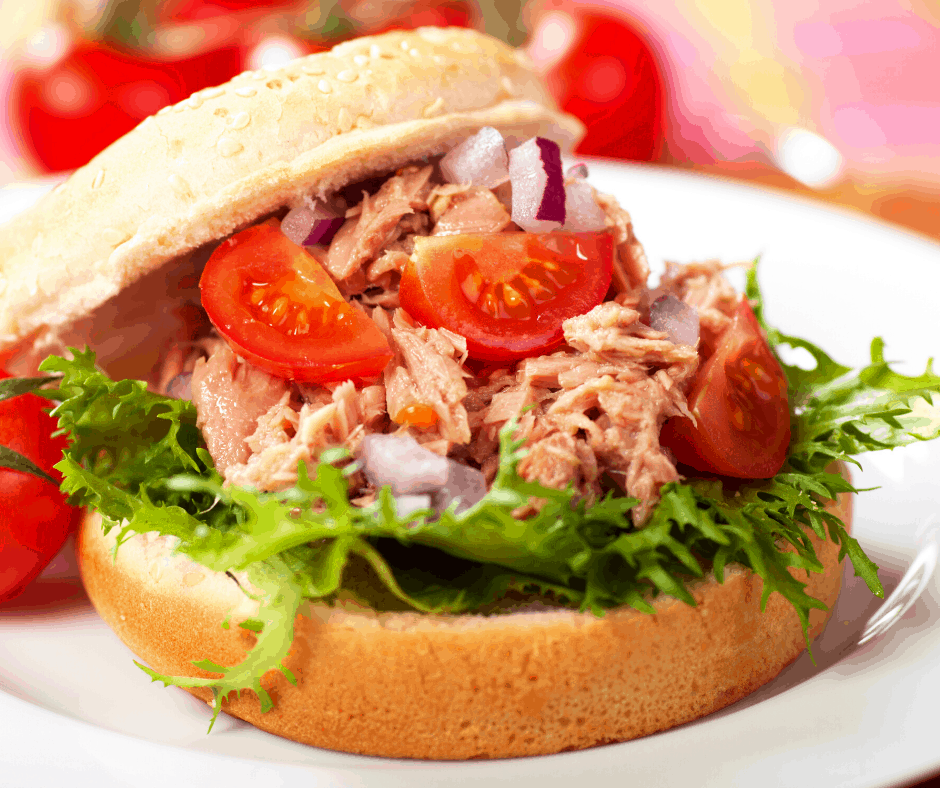 You can make a tuna sandwich or a chicken sandwich from last nights leftover chicken. You can choose to play it simple and mix in some mayonnaise.
Alternatively, what I like to do is fry some onions in a little oil and add some spice powders – turmeric and chilli. Mix in the tuna chunks for a couple of mins in a low flame. Sprinkle some coriander leaves to finish. You can use this as a spicy tuna filling in a baguette or a sandwich.
26. SANDWICH
A cheese, lettuce and tomato sandwich, a simple and easy last-minute lunch or dinner idea. Add in some pickles if you feel like it!
Other sandwich recipes:
27. BAGUETTES
Eggs can last a couple of weeks. Remember to keep them in the fridge during warmer months as they tend to get spoilt if you do leave them outside.
Egg and cress:
For an egg and cress sandwich, you can mix them together with mayo for a spreadable filling.
Egg and Onions:
If you don't usually store cress, you can also mix in some raw onions with the boiled and mashed egg and mayo.
28. SWEET POTATO KALE SOUP
This Sweet Potato Kale Soup recipe is hearty and made from scratch. It's easy and full of savoury vegetables. Perfect healthy comfort food!
Full recipe: The Rustic Foodie
Some other comfort soup recipes on a budget:
29. GRILLED CHEESE PANINI
Grilled cheese panini or a grilled cheese sandwich works well when you eat them hot.
30. MAC N CHEESE
Back to the basics with traditional mac and cheese.
Check out this recipe that shows you four different ways to make mac n cheese.
31. PASTA
You can either do a spaghetti bolognese or create a traditional pasta recipe for dinner or a quick lunch.
This classic Italian dish can be prepared in so many different ways. Here are the cheap meal ideas with pasta;
32. NOODLES
Cook your noodles and keep them aside.
Add a few teaspoons of oil in a wok and add some chopped garlic and immediately add finely sliced onions and your choice of frozen veg – green peas, carrot, cabbage, broccoli or sugar snap peas.
If you like ginger you can add a few match stick sliced pieces to it. After about a couple of minutes on a low flame, add you noodles, a tablespoon of soya sauce and sprinkle black pepper for a little heat.
Quick and easy noodles for your family. You can add scrambled eggs to make it more filling.
33. FRIED RICE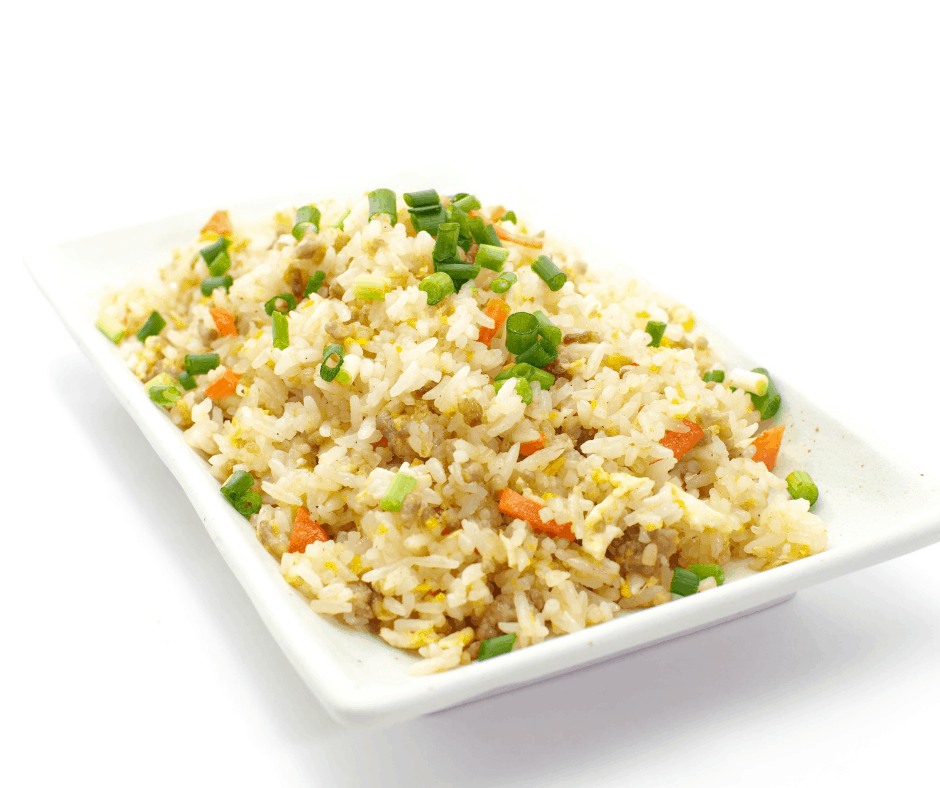 Using the same recipe as the noodles, you can cook fried rice following similar steps.
Just swap the cooked noodles to cooked rice. If you have leftover rice from the previous day, this recipe works well. Previously cooked and cooled rice works the best.
If you are cooking the rice the same day you make the fried rice, make sure to cool it well before you mix it in. Otherwise, the rice might end up mashy.
34. TACO SOUP
Check out these easy taco soup variations.
35. HOMEMADE GNOCCHI
If you are looking for lunch ideas to make use of your potatoes, try this simple gnocchi recipe from scratch. No fancy ingredient required and a healthy recipe for the kids' lunch too!
Posts you may like:
*Download your free list here, of over 30 dirt-cheap meals for breakfast and dinner to get inspired!
Cheap Easy Meals on a Budget